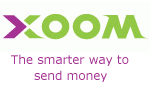 LINK
.
Yet another international money transfer service. It does seem to be cheaper than Western Union or MoneyGram. However, you can not send funds to many countries that Western Union, MoneyGram and iKobo offer transfers to.
Description from Xoom website:
Xoom Corporation is an online-to-offline international money transfer service. Xoom offers a secure, swift, and inexpensive means of sending money to Argentina, Australia, Bangladesh, Bolivia, Brazil, Canada, Chile, China, Dominican Republic, El Salvador, France, Germany, Great Britain (UK), Guatemala, Hong Kong, India, Italy, Jamaica, Mexico, Nepal, Netherlands, Paraguay, Peru, Philippines, Poland, Portugal, Spain, Sri Lanka, United States, Uruguay, and Vietnam.
How it works:
1. Enter your contact information, your recipient's information, and the amount you want to send.
We protect your personal information, and share it with our partners only for the purposes of completing your money transfer.
2. Select a delivery method.
Your recipient can pick up the money, have it delivered, or have it deposited directly into their bank account. Available delivery methods vary by country.
3. Select a payment method.
To fund your money transfer, enter your bank account, credit card, or PayPal information. We use state-of-the-art technology to keep your financial information secure.
4. Let your recipient know their money is on the way!
We will email you a receipt containing your unique Xoom Tracking Number. You can use this number to check the status of your money transfer at any time.